The global steel market reached a value of US$ 874.6 Billion in 2021. Looking forward, IMARC Group expects the market to reach a value of US$ 1,052.25 Billion by 2027, exhibiting a growth rate (CAGR) of 3.02% during 2022-2027. Significant growth in the automotive industry across the globe and Increasing oil & gas production owing to the transportation industry's demand is creating a positive outlook for the market. But with growth comes a lot of challenges in the steel manufacturing process. Companies in the industry face major challenges with rapid digitalisation and unlocking potential in data, shifts in consumer demands, and the attraction of top talents.
To address these challenges and improve profitability, the largest integrated producer of engineering steels and specialized seamless tubes in the Asia Pacific region has the foresight to expand its market in the coming years. In recent years, the leadership team has placed a greater emphasis on better asset utilization and process optimization.

Steel Plant & Tube Mill Challenges:
Failure of Assets
Complex procedures and important resources are used to produce steel tubes. Production and product quality are both impacted by the unforeseen failure of assets. It is not practical to inspect equipment frequently due to the harsh steel mill environment and the risks that inspection of rotating equipment poses to operator safety.
Mills in poor condition
A poorly maintained mill costs valuable time and scrap during setup and operation. The mill must be dependable so that the operator is not chasing mechanical problems during normal operation and setup. A good maintenance program, as well as rebuilds or upgrades when necessary, is essential.
Tube mill misalignment, poor mill condition, and inaccurate setup account for 95% of all problems in tube production. Most mills should be aligned at least once a year.
Low investment in technology
One of the major problems which these industries face is the lack of incorporation of advanced technologies in Research and Development work in production. The same is the case for other sectors of the industry and has been the case for decades. One of the outcomes has been the relative unattractiveness of the sector vis-a-vis others among young engineers. With little research being done by the government or the private sector, Industries lack effective implementation of Industry 4.0 and technologies that can reduce risks and helps to cut overall production cost. 
Process monitoring
Steel mills' inspection and monitoring process usually follow specific procedures, requiring that workers operate in a typical analog way. Since it is a critical environment, stopping production to execute corrective actions is unfeasible, and the current method for monitoring these problems is not able to predict failures in the same way as intelligent predictive models do, thus demonstrating an inevitable gap to errors.
Lack of Talent and Training
Even though the operators are skilled and trained to operate in tube mills, there are still some challenges and issues that they need to face every day. Tube mill owners should arrange training sessions on how to troubleshoot the problem and figure out what was causing the problem. If these problems are not addressed properly, aluminium fabrication, steel fabrication, or stainless-steel fabrication processes won't have precise tubes and pipes to work with.
Maintenance
Besides the difficulty in performing the inspection itself because of the hostile environment of steel industries, the maintenance of the encountered problems is also difficult.
The corrosion of equipment and structures is also a common problem in these industries and the maintenance of these components is very complicated because of the hostile environment, as mentioned before. Besides, the diversity of complex processes in this industry also makes it difficult to understand the extracted data in the operation, and the improper management of this information in diffuse systems compromises the maintenance of the structures.
Because of this lack of precise management tools, failure prediction in the operation is not usually achievable, leading to unplanned shutdowns and the extensive use of corrective maintenance methods.
Our Solution: 
With the advent of Industry 4.0, predictive maintenance has gained huge popularity in maintaining machine health. Predictive maintenance is aimed at reducing costly and unplanned downtimes and offers organizations to plan maintenance schedules in advance for increased efficiency. According to McKinsey, predictive maintenance typically reduces machine downtime by 30% to 50% and increases machine life by 20% to 40%.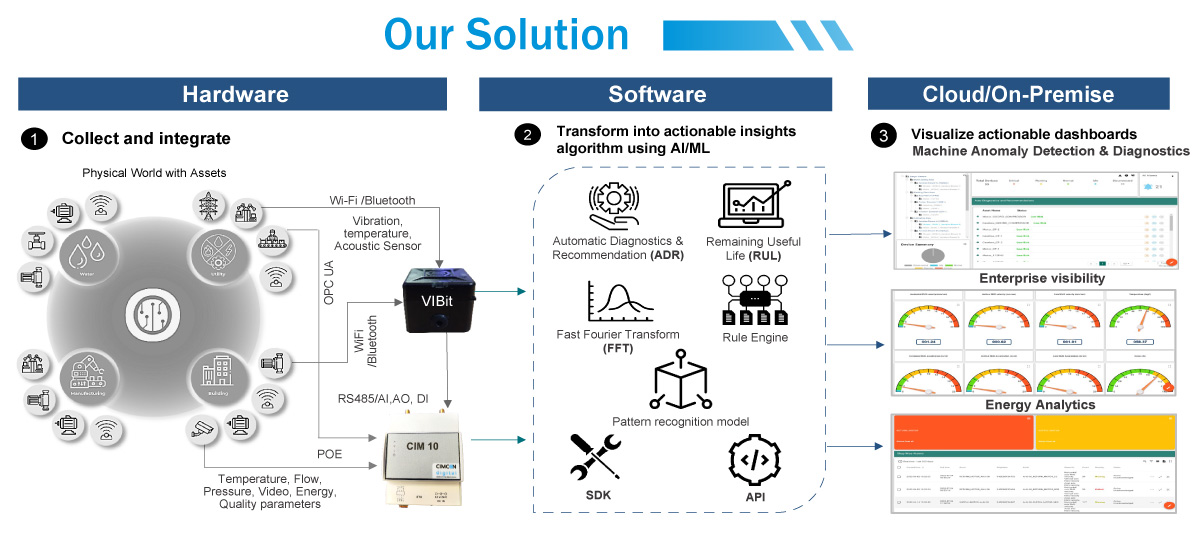 CIMCON Digital's VIBit is an intelligent, powerful, and compact sensor that monitors the conditions of machines or equipment and predicts their failures in advance using the latest AI/ML Technologies to avoid unplanned downtime saving time and money for the owners.
We set up VIBit, a platform for detecting and diagnosing machine anomalies so that we could track the real-time performance of crucial machinery and processes throughout the year. VIBit Tri-axial vibration, Temp, and audio sensors installed on rotary equipment transmit machine health data over Plant's Wi-Fi. AI/ML algorithms on the edge platform provide early machine anomaly detection along with diagnostics and recommendations for corrective and preventive action.
It can be used in Steel Tube Plant Asset and Fault Diagnostics to identify faults like bearing failure, misalignment, and electrical faults in types of equipment like De-scalar: motor/pump, Fume extraction system: motor/pump, etc.
Benefits of setting up a VIBit:
Real-time monitoring of critical equipment's health on a single dashboard.
Prioritize and plan maintenance action before catastrophic failure.
Reduce the risk of operator safety with remote monitoring.
Reduce planned downtime and eliminate unplanned downtime. 
Reduce process and quality-related issues.
Increase equipment efficiency and reduce carbon emissions.
In conclusion, the steel and metal industries are undergoing significant changes and it is important for manufacturers to adopt technologies that can assist in reducing manual labour, leveraging data, and improving asset health. By embracing the latest technological advances, steel and metal manufacturers can use predictive analytics to anticipate failures and proactively take action to reduce unplanned downtime and improve plant efficiency.